Sustainability Office Fee
From fall quarter 2010 - summer quarter 2020, Measure 45 or the Sustainability Office Fee assessed a $2.75 fee per undergraduate student each quarter to fund a variety of programs supporting students interested in sustainability & social justice at UC Santa Cruz. 33% of these fees went to help students through financial aid. In recent years, the Sustainability Office received roughly $100,000 annually after this deduction. Despite our best campaigning efforts, the Sustainability Office Fee failed to pass during the spring 2020 election due to unusually low voter turnout amidst an all-remote spring quarter informed by the campus COVID-19 response. Measure 45 has officially sunset and is no longer an active fee. 
During the last decade, the Sustainability Office utilized these funds to support hourly paid student positions in the Sustainability Office; connect campus staff and departments with students seeking positions with interest and expertise in sustainability; fund collaborative projects outlined in the Campus Sustainability Plan; and provide professional development and relationship-building opportunities to students working on sustainability issues, through conferences and workshops and our annual Sustainability & Social Justice Inter-Organizational Retreat. Students in the Sustainability Office are broken into teams to tackle specific sustainability work, they've propelled UCSC forward to create a sustainable campus. Below is a summary of the number of people served through the Measure 45 fee between 2010 and 2020.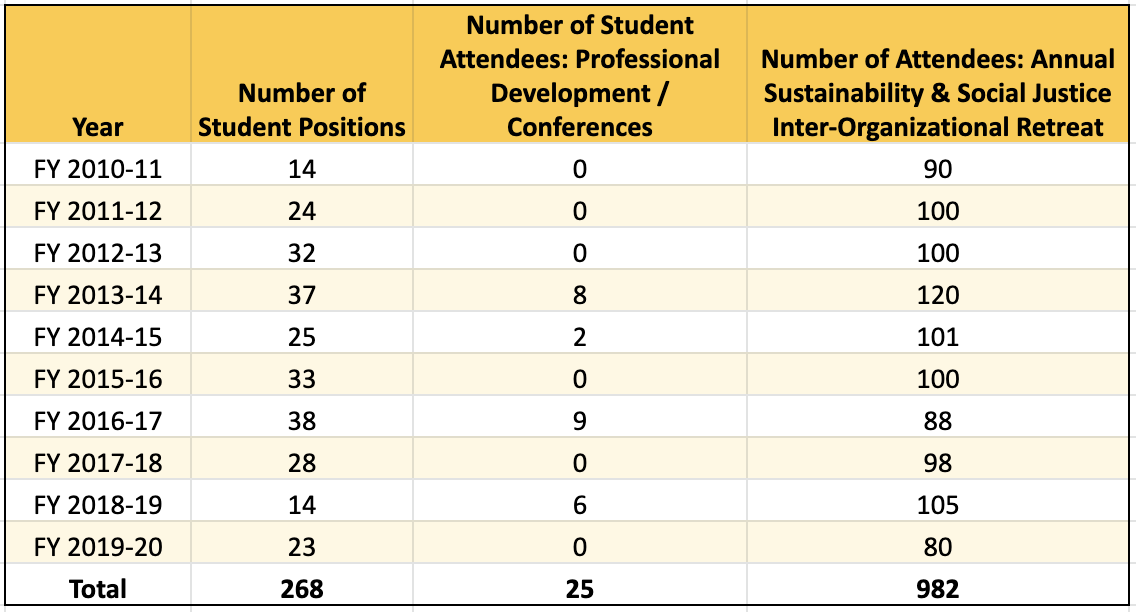 ---