Resources
Find the resources and answers to key questions so you can learn more about zero waste and live the zero waste lifestyle!
Check out this awesome resource on how to compost in apartments and condos, sent to us by Anthony, a student fromMaine! If you want to find more information, click here.

Quick Resources

Additional Zero Waste Resources
Is it better to recycle or reuse?
While recycling is a useful method to divert waste from the landfill, the most efficent and sustainable option is to reuse. Always looks for ways to reuse items and avoid disposable products in your daily routine. Here are some easy, money efficient, and sustainable practices:
- Use reusable bags                           - Use a reusable water bottle
- Use a reuseable cloth towel              - Bring your own mug for coffee/tea
- Visit your local farmer's market         - Bring your own lunch in reusable containers
What happens to your waste at UCSC?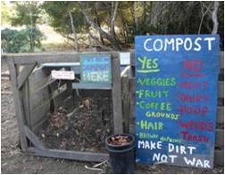 Additional Compost Resources
What are the different types of compost?
There are two main types of composting — cold compost and hot compost. Cold compost is where you let it naturally decompose overtime with the assistance of decomposers, while hot composting is where you speed it up by applying heat.
How do I compost at home?
Cold composting is available to students in campus apartments. Students can request a compost bucket over fix-it and empty the bins at nearby waste centers. Some campus gardens can also accept student compost.
To learn about how to compost, what to compost, and the benefits of composting, check out the EPA's Composting At Home.
To compost off-campus, learn about the City of Santa Cruz's Home Composting Discount Program.



Additional Recycling Resources
How do I recycle on and off campus?
To recycle on-campus, check out Grounds Services recycling webpage.
To recycle off-campus, use the City of Santa Cruz Waste Guide or local programs like Grey Bears.