Inter-Org / iLab Summit 2021
The Sustainability and Social Justice Inter-Organizational Retreat & iLab Presents: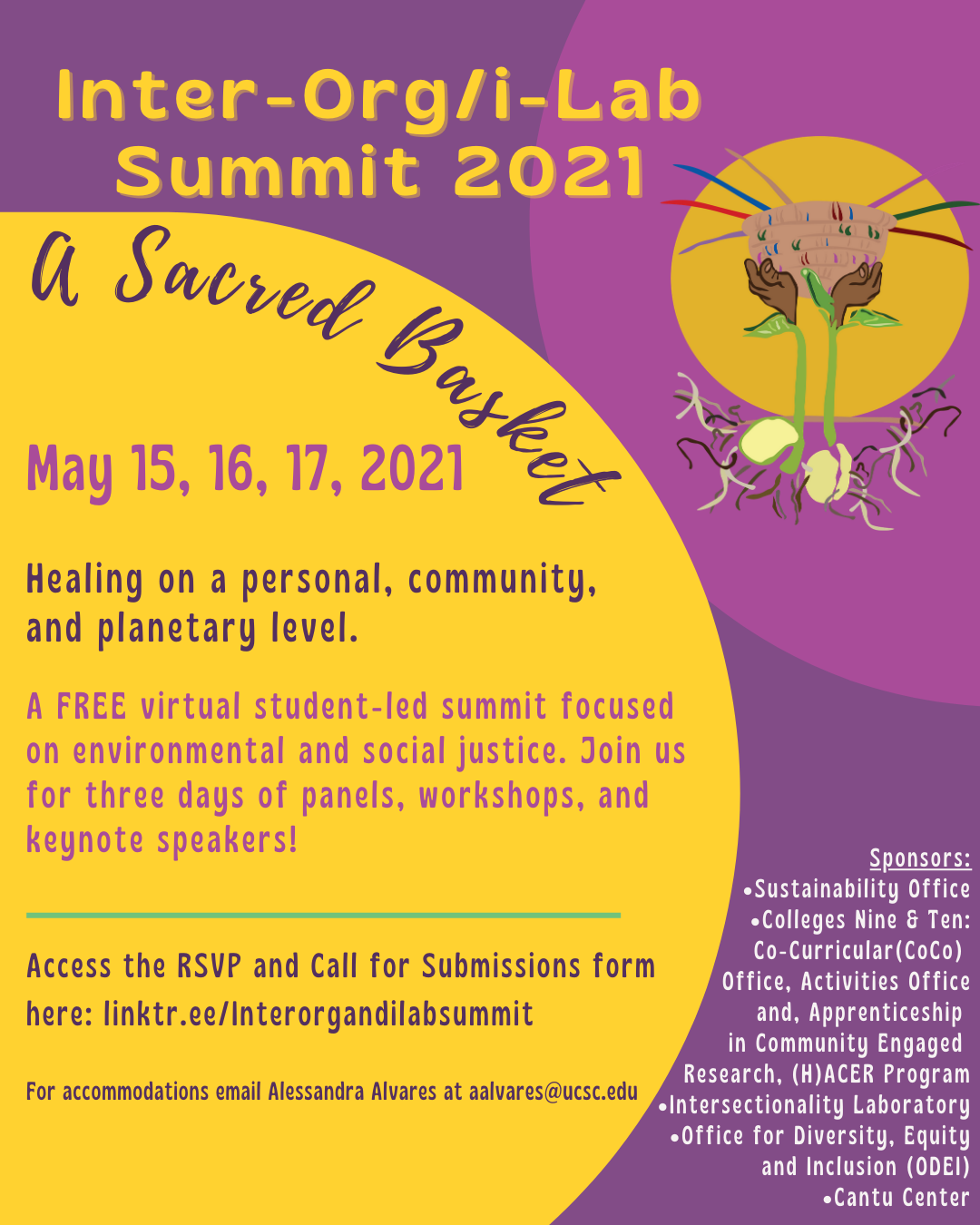 The InterOrg/iLab 2021 summit, A Sacred Basket: Healing on a Personal, Community, and Planetary Level will be taking place on May 15, 16th, and 17th. Remember to check back here for more information.
--
The summit will focus on dialogue and exploration of healing and its relationship to environmental and social justice issues. Throughout the summit, we will address the intersections and interweaving of healing on the personal, community, and planetary level. We want to pose the question, "As we transition back to campus, how do we as a community address the vital issues of safety, basic needs, accessibility, respect, and sense of belonging which were central before the pandemic and continue to be so?"
Included will be keynote speakers, workshops, panels, poster sessions, art exhibits, and more from our community on and off-campus!
Check out our LinkTree for the RSVP form, to submit your artwork, host a workshop, present your research, and more! 
Current Agenda:
| | |
| --- | --- |
| Saturday, May 15th | Event |
| 11:30 - 12 | Opening |
| 12 - 1 pm | A Sacred Basket: Dialogue about an Ecosystem of Care |
| 1 - 2 pm | LUNCH |
| 2 - 3 pm | Storytelling Lab: Fostering a Storytelling Space for Healing |
| 3 - 4 pm | Calabasas Community Garden |
| 4 - 5 pm  | BREAK |
| 4:20 - 5 pm | TBD |
| 5 - 6 pm | Dance Fitness Workshop |
| | |
| --- | --- |
| Sunday, May 16th | Event |
| 11:30 - 12 | Opening |
| 12 - 1 pm | KEYNOTE: Diana Morales |
| 1 - 2 pm | LUNCH |
| 2 - 3 pm | Sense of Belonging (SCCORE) |
| 2 - 3 pm | Mutual Aid in College (BIPOC Liberation Collective) |
| 2 -3 pm | SEJA+SDIP workshop |
| 3 - 5 pm | Personal Oracle |
| 3 - 4 pm | Introduction to Environmental Justice 101 |
| 4:50 - 5:20 pm | BREAK |
| 4:00 - 5:00 | Poetry Program |
| 5:00 - 6:00 | Reflection + closing activity  |
| | |
| --- | --- |
| Monday, May 17 |  Event |
| 11:30 - 12 | Opening |
| Noon to 1 pm | Poster Session |
| 1 - 2 pm | TBD |
| 2 -3 pm | TBD |
| 3 -3:20 pm | BREAK |
| 3:20 - 4 pm | Showing Up For Racial Justice (SURJ) |
| 3:20 - 4 pm | Bachata (Group Dance)  |
| 3:20 - 5 pm | Sustainable and Resilient Solutions for a Reparative Future  |
| 4 - 5 pm | TBD |
| 5 - 6 pm | Dr. Jackie Rabouin, LMFT, PhD |