More than 20 organizations and almost 80 alumni and students joined together the weekend of January 24th-26th, for the Sustainability Office's 10th Annual Sustainability and Social Justice Inter-Organizational Retreat 2020 (Inter-Org). The event is student organized and designed to promote conversation and community-building of diverse perspectives between student organizations. This year's theme was Power of Community: Stories, Activism, and Honoring Our Earth's Warriors. 
The event started off with a panel of inspiring speakers at the UCSC Hay Barn, including
Chris Lang - Environmental Studies Graduate Student

Jessica Zubia Calsada - 3rd year Undergraduate, Student Sustainability Advisor

Rick Flores -

Horticulturist and Steward of the Amah Mutsun Relearning Program (AMRP)

Aysha Peterson - 3rd year Environmental Studies PhD student
moderated by Environmental Studies professor and Colleges Nine and Ten Provost, Flora Lu. Attendees heard a vibrant discussion among panelists around how to stay positive in the modern environmental climate, how diversity is important in the environmental movement, and much more. When reflecting about the panel, one student said, "I thought the age gap difference between the speakers was really cool because it showed me that despite being so different in age, we can all be so similar in what we are so passionate about. And it showcases different experiences we have within the sustainability realm as undergrads, grad students, and as adults/alumni." By the end of the night, each person identified an intention for the rest of the weekend.  
Saturday morning kicked off with breakfast and games at YMCA Camp Campbell in Boulder Creek, leading into the first keynote speaker of the event, Harmony Lambert.  Harmony is an environmental and indigenous rights activist, who currently works for Greenpeace. She discussed her work with the non-profit and what it means to be an ally.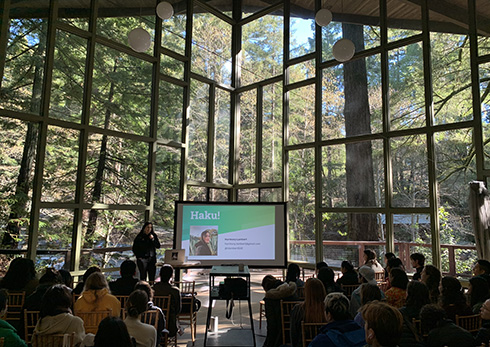 The day moved into two sessions of eight student-led workshops including:
Cosmetics and Consumerism

Beyond the Hydroflask

Go with the Flow

A Guide to Sustainable Programming

The World Cafe: Our Lives in Activism

Honoring Nana Echeri: A Contemplative Walk
Workshops are the heart of Inter-Org. They allow student organizations to enrich the conversation, bring in new perspectives, and collaborate with their peers. Everyone attending took part in two workshops of their choice. This year's Inter-Org introduced a new program to the agenda: full group workshops at the end of the day. 
NormaAlicia Pino, Education Specialist & Program Coordinator at the Office for Diversity, Equity, and Inclusion, and her student staff held an engaging workshop titled, "Environmental Racism & Sustainability Justice: Exploring Meanings, Methods & Solutions." Attendees were asked to evaluate real-life scenarios and describe how they relate to the Tree of Hate, which is based upon Maslow's Hierarchy of Needs, and the systematic environmental injustices experienced by marginalized communities daily. The workshop was followed by the People of Color Sustainability Collective "The Future of People of Color Sustainability Collective" led by Chris Lang and Valeria Paredes. After a long day of learning, Student Sustainability Advisor Juan Castanon and former Sustainability Office staff Simone Write hosted a bonfire and talent show with s'mores and lots of dancing to unwind, while some students returned to their cabins for a good night's rest.
Sunday, the final day, went by fast. Inter-Org participants packed up their cabins and headed out to hear the final keynote speaker, Khafre Jay of non-profit Hip Hop for Change. Through his organization, Khafre teaches youth how to use the principles of hip hop and rap for self-expression, empowerment, and activism. They seek to address unjust representation of hip hop by mainstream media, through education and community-building activities. Visit the Hip Hop for Change website for more information.



This year's Inter-Org came to a close with laughter and music as Khafre Jay gave a lesson on the history of activism within hip hop and led attendees on how to write and perform their own rap.
Inter-Org Retreat is a place to build community, change perspectives, and uplift and listen to others. "I had a great time and it made me feel like I found people who had the same values as me," said one of the attendees. The soul of the event went hand in hand with this year's theme. We are grateful for those who joined us at Inter-Org and are already excited for next year's retreat! If you would like to help plan next year's Inter-Org or learn more, email interorg@ucsc.edu.