The Association for the Advancement of Sustainability in Higher Education (AASHE) released the "
2022 AASHE Sustainable Campus Index (SCI)
, a publication that recognizes top-performing colleges and universities in 17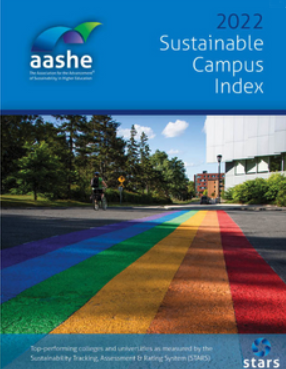 sustainability impact areas and overall by institution type, as measured by the Sustainability Tracking, Assessment & Rating System (STARS).
Used by hundreds of colleges and universities, STARS helps institutions measure, report and strengthen their contributions to global Sustainability.
UCSC is proud to have placed in the top ten in "Investment & Finance" and "Research" categories.
Investment & Finance
Collectively, colleges and universities invest hundreds of billions of dollars, and the impacts from investments are both local and global in scope. Using transparent and democratic investment processes improves the long-term health of institutional endowments, encourages better corporate behavior, supports innovative product development and builds a more just and sustainable financial system. This section covers sustainable investment, committees for responsible investing and investment disclosure."
Research
By researching sustainability issues and refining theories and concepts, higher education institutions help the world to understand sustainability challenges and develop new technologies, strategies and approaches to address those challenges. This section covers faculty and department sustainability research and initiatives for open access research.
"UCSC is excited to be tied for first place along with 25 other peer institutions who all received a 100% of the available research points in the STARS rating system", says Ellen Vaughan, Water and Climate Action Programs Manager at the Sustainability Office. 
"After the University of California became the nation's largest educational institution to divest from fossil fuels in 2020, I'm not surprised to see our high rating in the Investment & Finance category as well" she adds. (See 2020,
LA Times Article
) 
Sources: AASHE Index Report, UCOP