UCSC is spearheading another exciting initiative that will help advance the campus' Zero Waste goals.
As a result, single-use cups are about to get a little more expensive on campus. Bringing your own will save banana slugs even more money!
As of March 28th, Dining implemented a $0.25 charge for each single-use cup ordered at retail locations across campus. This charge copies the single-use cup tax that was initiated by the city of Santa Cruz on March 8th and a similar charge that is going into effect county-wide as of July 1st, 2022.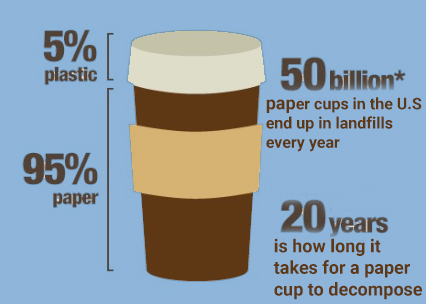 Additionally, the discount offered to customers who bring in their own clean, reusable mug will increase from $0.20 to $0.25. When ordering, present the cashier with your reusable mug and the discount will be applied to your order. Please ensure the cup is clean and only hand over the cup, you can keep the lid, straw, or any other beverage accessories. 

"Single-use beverage cups are one of the leading sources of daily waste. By implementing a charge for single-use cups and a related discount for using a reusable mug, we're incentivizing sustainable habits" said Derek Martin, UCSC's Sustainability Programs Manager.
UCSC Dining and the Sustainability Office look forward to monitoring and tracking this new program closely to maximize success, and will continue working with Ground Services to develop creative opportunities to improve Zero Waste across campus.