Environmental Studies Professor Flora Lu and Environmental Studies Lecturer Emily Murai recently released a co-edited volume, Critical Campus Sustainabilities: Bridging Social Justice and the Environment in Higher Education (Springer Nature). Weaving together the broad literature on critical sustainability studies with voices from staff, alumni, graduate students, faculty and community members, the book highlights cross-disciplinary, multi-pronged approaches to promoting inclusive and just forms of sustainability and environmentalism in higher education.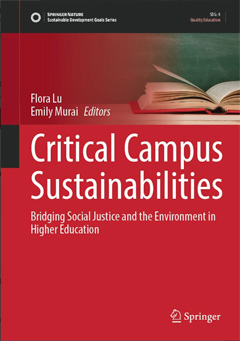 Centrally showcased is the People of Color Sustainability Collective (PoCSC) at UCSC, an innovative, unique and award-winning initiative founded in 2015 that aims to recognize, highlight, and institutionalize the sustainability practices of communities of color, and redefine sustainability to include diverse cultural approaches as well as a recognition of power dynamics, ethical considerations and intersectional identities. Over the years, PoCSC received many inquiries by faculty and staff at other universities to share its model, best practices, and research instruments. 
This book aims to do this and more. Drawing from three campus-wide surveys conducted in 2016, 2019 and 2022, several chapters in the book provide robust, empirical understanding of the gaps, (mis)conceptions and perspectives undergraduates hold about environmental concerns, zooming in on different facets of sustainability and providing insight into building more effective sustainability curricula and programming. Three chapters in particular examine student perspectives about the environment and environmentalism by race, gender, first generation status and declared major to document changing attitudes over the six year period, while another chapter examines student experiences of environmental health at the height of the COVID-19 pandemic. Other chapters draw from additional critical environmental approaches (e.g., anti-racist, community engaged, and critical feminist) to explore the history of environmentalism at UCSC; student demands for more inclusive environmental courses and curricula; and the deep educational value of co-curricular programming that connects UCSC students with environmental issues in the surrounding community. 
The book offers multiple examples that demonstrate the real world, life-changing implications of a more inclusive approach to sustainability and the environment in higher education. One co-curricular program in particular, the Apprenticeship for Community Engaged Research or (H)ACER, developed a rich university-community partnership between John R. Lewis College, one of the residential colleges at UCSC where (H)ACER is housed, and a community garden forming in nearby Watsonville, a largely agricultural community. Interning as a student researcher alongside several community members, contributing author (and now John R. Lewis College Academic Manager) Michelle Hernandez Romero found affirmation for her identity as an undocumented Latiné woman from rural Mexico.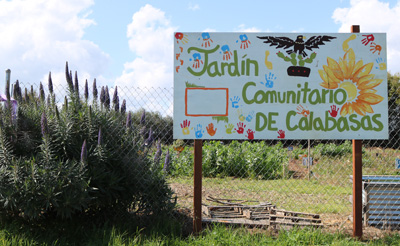 As she writes in the book, "The [Calabasas Community Garden in Watsonville] and my mentors nurtured my mental health and wellbeing during a time when I was close to giving up on higher education. My personal experiences as an immigrant woman from Mexico allowed me to build meaningful relationships and connections with different members of our community. I began learning about the significance of university-community relationships that work in synergy towards educational equity, student success and social and environmental justice." Similarly, Yolanda Perez, one of the garden's founders, discusses the many ways (H)ACER brought more exposure and resources to the garden, enabling them to see the garden as an educational resource for the university community. As she writes, 
As time has passed, I have seen an evolution in gardeners and student interactions. At first families are very hesitant and shy to speak to the students that came from the university. They would say, "Well, what am I supposed to say to them? They are not going to understand me." I would try to push them and say, "Yes they will and they want to learn from you." Later on, I see them laughing and sharing stories as they garden together. As we begin to come out of our shells, we begin to get excited to see them. Whenever I tell gardeners that a group of students is coming to the garden they immediately ask me what they can do to support their visit and they always show up with food. They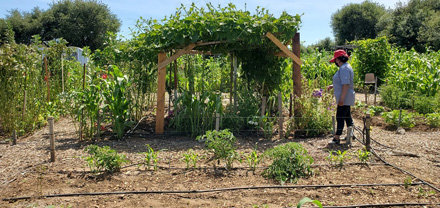 want to make sure the students are well nourished and they get excited to talk to them and hear their stories. It's a growth that I have seen amongst all of our community members. We have grown in all kinds of ways here. These kinds of interactions and gaining confidence is our work and who we are encourages us to get involved and do things we have never done before. Many of our community members are more outspoken and take leadership roles in the school and other places. It has helped us remove this layer of fear to be seen or noticed that many of us as immigrants carry. That fear that keeps us at home, stuck in a cycle, never really enjoying or living our lives. It's amazing how much being a part of the garden has changed our lives. I personally never imagined I would be doing presentations for university classes and one day be called a community leader. 
UCSC's Assistant Vice Chancellor for Strategic Initiatives & Sustainability (and contributing author) Elida Erickson sees the book as both timely and distinctive. She says, "This book is the result of a truly unique collaboration, with contributions by authors from all walks of life. It is a wonderful reflection of how much more powerful the environmental movement becomes when we center people's lived experiences in this work as strongly as we center climate science." 
In a 2020 report, the National Academies of Sciences documented a significant increase in US degree programs, research institutes and centers focused on sustainability, yet lamented a notable lack of students from non-dominant communities in these units. Framing sustainability programs in more inclusive ways and correcting misperceptions (e.g., that BIPOC are disinterested in the environment) works towards greater diversity, equity and inclusivity in sustainability education. This book is one attempt to push sustainability programming in that direction.