Dani Barker has over 10 years of experience in the field of social justice training and leadership education. She currently works as the Associate Director for College Student Life Operations and Staff Development at UCSC where she focuses on coordinating campus-wide events like commencement as well as the recruitment, training, and development of all professional staff in College Student Life. Learn more about Dani and her work.
Tell us a bit about yourself, your background, and how you came to UCSC.
My name is Dani Barker and my pronouns are she/her/hers. I grew up in Racine, Wisconsin, a medium-sized town halfway between Milwaukee and Chicago. I have a younger brother and sister who are almost 4 years younger than I am (they're fraternal twins) and being a big sister was both my first and probably most important job. For the first 15 years of my life, my parents owned a convenience store, something which while I didn't know it at the time, became a huge influence in shaping who I am personally and professionally. I did my undergrad work at the University of Wisconsin-Madison and my graduate work at the University of Arizona. Before coming to UC Santa Cruz, I worked for 5 years in the business school at UW-Madison. My partner got a job here first and a few months later an interim position was offered to me so I made the move.

What is your role at UCSC? 
I serve as the associate director, college student life operations, and staff development. In this role, I have the privilege of serving as one of the coordinators for commencement. I also get the opportunity to work on the recruitment, hiring, and professional development for our professional staff in college student life.
You've had over 10 years of experience in the field of social justice and leadership education. Could you tell us a little about that?
My first experience with formal social justice education came when I was selected to be a House Fellow at UW-Madison. My supervisor at the time was an amazing change agent and pushed our team to incorporate social justice into all aspects of our programming with residents. It's one of the experiences that inspired me to go into student affairs. 

In my time at the University of Arizona, my graduate assistantship was with the Center for Student Involvement and Leadership. Most of my time was focused on the Blue Chip Leadership Program, a 4 year curricular and co-curricular leadership development program. Before this experience, I didn't really know that leadership was based in research and grounded in models and theories. I learned so much more in those 2 years than I ever could have imagined, in part because I had the great honor of working with some of the most talented professionals in leadership education in the country. My time at UA provided the foundation for who I am as a professional, and I still incorporate the knowledge that I gained there in my work almost every day.

While my time at UA laid the groundwork, my time in the school of business taught me how to actualize the theory in a way that was adaptable to the needs of the particular students that I am working with. One of the things that I'm most proud of in my career is the development of the direct admit experience in the Wisconsin School of Business. As part of this experience, I worked with colleagues to create a 3-credit course that explored topics of leadership, authenticity, ethics, and student development along with a three-semester curricular and co-curricular initiative to educate business students around topics of diversity and inclusion. It was an intentional, lock-step curriculum that provided scaffolding for students; by the end of the program, students engaged in critical conversations around power, privilege, and oppression and their role in creating positive societal change. 

In 2019, you helped with a number of waste and contamination reduction measures during Commencement weekend which led to dramatic improvements in waste management. Can you tell us more about these measures and how you contributed?
Absolutely. One of the best things about commencement is that it truly is a group effort. Commencement could never be pulled off with just one person and I'm really lucky to be able to work with some amazing staff to deliver the experience for our graduates and their families.

I started 2 weeks before commencement 2018 so my job that year was really to observe and get ready to start coordinating once we got past that year. In the fall of 2018, I was invited to meet with Kristen and Elida from the Sustainability Office and a number of staff from physical plant to debrief commencement 2018 and start brainstorming how we could make 2019 more sustainable. One of the ideas in that meeting was to work with catering to as much as possible eliminate the use of single-use plastics that were sold as part of commencement concessions. An idea was thrown on the table that perhaps we could go meatless for commencement given all we know about meat production and the profound impact it has on the planet. I took the idea to Bill Prime, the director of dining services, and Traci Takeuchi, the catering manager and as our conversation evolved, it morphed into a conversation about how the most sustainable option from multiple lenses would be to not have concessions at commencement. As we continued to talk to various stakeholders, the idea became more of a reality until the decision was made to try 2019 without concessions.

The other major contributor to the reduction of waste at commencement was the move from scrolls to diploma covers being distributed to students. In past years, the colleges gave students a paper scroll tied with ribbon as they crossed the stage. A number of universities give students diploma covers so I brought the idea to the college programs coordinators and leadership team in college student life and people were receptive to moving in that direction. We had a number of campus partners including the office of sustainability and alumni relations that helped offset the cost so that we could be more sustainable and give our graduates a lasting and useful memento.  

Those 2 changes were among the primary reasons that we saw approximately a 1300 pound (or 66%) reduction in overall waste generation from 2018-2019.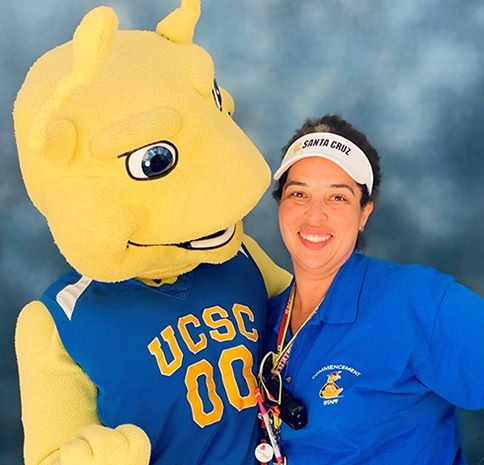 Given that we are living in such unprecedented times, what are some of the changes that will be implemented for this year's commencement ceremony, and what was the process like to change it?
The biggest change for 2020 is that we will have a virtual commencement as part of our festivities this June. We know that a virtual commencement cannot replace or replicate in-person celebration but this is a little bit of a teaser until we can hold an in-person event when it's safe to convene large groups.

As I said earlier, commencement requires the work of many staff across campus and making this shift has been no different. The Chancellor convened a working group made up of the coordinators from the 14 main venue ceremonies and celebrations so my team has been working with that group since April to deliver amazing events meant to recognize our graduates despite our inability to gather in-person.
Are there certain portions about this year's ceremony that you are specifically looking forward to?
Commencement is by far my favorite time of year and one of the things that I love most about working on a college campus so not having an in-person event this June is really disheartening but I think there are also some aspects of the virtual events that are unique and we wouldn't be able to do in the same way in-person. One example takes place during the processional, the time in each event where students usually cross the stage. For our virtual events, this will entail a slide where each graduate will be featured while their name is read. Students had the opportunity to submit a photo of their choosing and could also opt to write a short message to be displayed on their slide. Many students have used the space to share gratitude for the individuals who have supported them over the course of their college journey. I'm really excited about this piece for our students as well as their friends and family who may get to see these heartfelt messages for the first time while they're watching the commencement with their students.

You've been previously described as an "out-of-the box thinker". How has this trait helped with this year's unique situation and challenges?
When so many things are in flux or changing, it certainly is helpful to be adaptable to changing circumstances. I don't think of myself as an "out-of-the box thinker" (I think whoever said that was being kind), but I do like to keep all options on the table. Two strengths that I rely on heavily in my work are strategic and significance. These strengths mean that generally I am good at problem solving (and I really like puzzles) and that I need anything I'm doing to have meaning behind it. Being able to utilize these strengths is where I thrive so having them has definitely helped as we shift our thinking around commencement. 

It also helped that we implemented a good number of changes last year. From diploma covers to utilizing tickets for the first time and a centralized registration form to moving where the graduates sit, the coordinators and I had our minds thinking "outside of the box" already, COVID-19 just forced us to change the orientation.

There are certainly a lot of changes to navigate this year, but in the end it was still important to me to keep the things that work and let our values as an organization guide everything we do. When we follow our mission, vision, and values, we usually end up in a place of success.
What does sustainability mean to you?
For the longest time sustainability to me meant doing my part to make sure that the planet can be as healthy as possible because that's what you're supposed to do as a good human and citizen of the planet. Ever since I became an aunt though, I think it's taken on a more personal meaning. I feel a much more profound responsibility to make sure that I'm doing what I can to leave as little an impact as possible and encouraging those around me to do the same so that my nieces and nephews and any children they may have inherited a planet that is liveable for them.
Lastly, what does Dani Barker like to do for fun?
I love games! My partner and I are currently hooked on Backgammon and Iota. I also enjoy baking (some people find this funny because my partner's last name is Baker so I like to point out that I'm not a baker, I'm a Barker who bakes), especially as a stress reliever.