Bio

Sarah Christine Woodside Bury (she/her/hers), Senior Director of College Student Life, Cowell College, Stevenson College, College Nine and John R. Lewis College is a graduate of the University of California, San Diego with a BA in Sociology and a minor in Spanish and completed her Masters degree in Student Affairs in Higher Education at Colorado State University.

She came to UC Santa Cruz in 2001 to help start UCSC's two newest Colleges, College Nine and College Ten (now John R. Lewis College), due to their compelling and imperative themes.  While at UCSC, Sarah has served as a CRE, CPC, and AD both at Colleges Nine and (College Ten) John R. Lewis College and Crown College.  Now, she has the honor to support and co-lead (along with the Provosts) College Nine, John R. Lewis College, Stevenson College and Cowell College.

As Senior Director, her main areas of responsibility are to lead everything outside of the classroom that impacts and supports student success, including college programs, residential life and housing, facilities, and fiscal management. 

One of Sarah's most memorable professional experiences outside of UCSC was when she helped to start the international floating university, aptly named The Scholar Ship, which sailed with 250 students, representing 45 different nations, visiting 16 different countries around the globe.
Sarah finished the Sustainability Certificate Program in 2020, and we had the honor to have her give a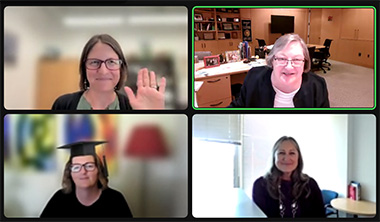 commencement speech during the graduation ceremony of the 2022 cohort this past June 16, in the presence of Chancellor Larive.


In her words
"As Senior Director, I have the privilege of working with all our student affiliates, supporting the totality of their journey at UCSC, from enriching residential education and community building and participating in the myriad of leadership opportunities within the colleges, to promoting their academic success by bringing the themes of the core course to life.  
In fact, that is precisely why I came to UC Santa Cruz (20 years ago!)--we were starting two new colleges with compelling themes:  College Nine with the theme of International and Global Perspectives and College Ten (now John R. Lewis College) with the theme of Social Justice and Community. I am deeply committed to these themes both personally and professionally, and they drive everything that I do as Senior Director. An underlying element of these themes is environmental justice and sustainability–which are also in line with UC Santa Cruz's history and commitment to social justice and environmental sustainability–another reason why I came here.  
Attestations and reputations must be backed by deeds. We -- as individuals and as a collective UCSC -- must demonstrate the values we hold each and every day, recognizing that the work continues. For me, living in integrity is living my values each and every day, while at work and while being a mama, sister, partner, friend, daughter, community member, global citizen….my commitment is to do my part to make the world a more just, sustainable, interculturally aware and peaceful place. In order to stay true to that, and especially given my many axes of privilege, I must continue to learn, grow, act, enact, make decisions and disrupt even my own preconceived notions.  
Last month, we named John R. Lewis College, a momentous act that I am immensely proud of and humbled by. Trying to live up to the name of such an iconic and revered figure is a huge responsibility.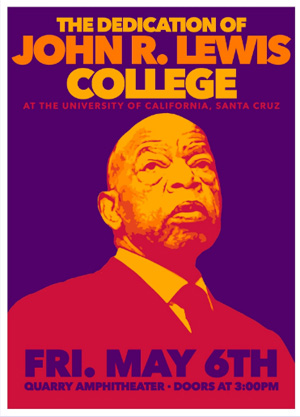 As students from the Black Student Union remind us, this naming necessitates efforts that must be transformative, not performative. We cannot extol and repeat his mantra of "good trouble, necessary trouble" if we fall back to the same patterns, processes, and policies that uphold a status quo that works for the few and not the many, that does not meet this moment and the conjoined crises we face. When we invoke good trouble, it must refer to trouble both as a noun and a verb. To trouble means to unpack, unmake, unsettle, critically interrogate and deconstruct, to identify and illuminate false arguments, to imagine and embody new possibilities. 

The Sustainability Office, under the outstanding leadership of Elida Erickson, understands this and strives for tangible, meaningful and impactful efforts that "trouble" dominant framings of sustainability and sustainable practices, such as this Certificate Program."

Sarah has a deep commitment to doing her part to make the world a more peaceful, sustainable, socially just and equitable place. More personally, she is the proud Mama of Alexander (her 6 year old son) and Nima (her 7 year old dog), both of whom you may see around campus.