While communities are still recovering from Covid impacts, the Carbon Fund has played a significant role in empowering the UCSC community by allocating funds to student-involved, sustainable projects that aim to improve our environment. The 2022-23 Carbon Fund has awarded $121,500 towards a total of three micro-projects and six macro-projects that are dedicated to creating sustainable innovations, spaces, opportunities, and alternatives.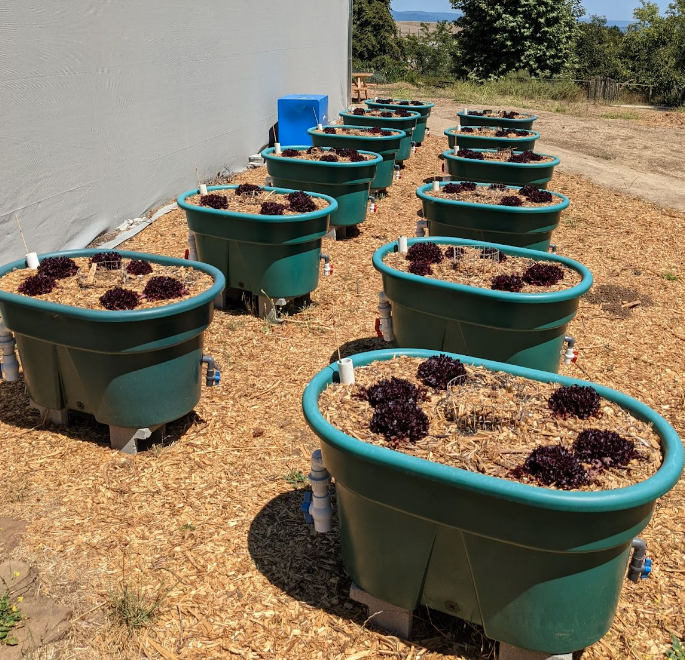 We are immensely grateful for all those who applied and especially excited to provide more information on the latest 2022-23 projects in the near future! 
The Carbon Fund would like to dedicate some attention towards FarmFuture's progress over the past year. FarmFuture is a micro-project run by UCSC student, Connor Greenwood, which was funded again this year due to the amazing results. Connor Greenwood and the FarmFuture team have been working towards utilizing aquaculture effluent to supplement water with nutrients and to conserve water. Their beds (shown in the image) "have proven to be incredibly water efficient, even capturing water during rain events" which has led to the growth of these red lettuce! 


2022-23 Micro-Projects
Waste reduction spring series
Reducing greenhouse gas emissions at the Arboretum & Botanical Garden by replacing gas-powered equipment with electric equipment 


2022-23 Macro-Projects
Research project to assess the renewable energy production potential of cactus
Replacing gas-powered equipment with electric equipment at the UCSC Natural Reserves
Replacing the steam boiler and kettle at the Crown/Merrill Dining Hall with an electric kettle
Utilizing mycelial for watershed resilience, wildfire response and waste diversion
Fog water collection for irrigation at the UCSC Farm and Life Lab
We encourage students to apply for the 2023-2024 Carbon Fund (every fall) and we can't wait to hear your ideas! Learn more about previous projects and upcoming opportunities here. Stay tuned for updates on the 2021-2022 projects funded by the Carbon Fund on our Instagram!