The UCSC Sustainability Office hosted the annual Sustainability and Social Justice Inter-Org Retreat in April for nearly 100 undergraduate student attendees. The theme this year was "Another World Is Possible" and it sought to expand participants' knowledge and willingness to implement alternate approaches to some of our society's toughest problems. The event was primarily student-led and organized by the Sustainability Office's Sustainability and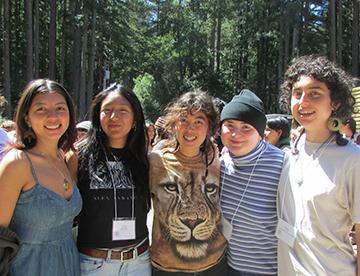 Environmental Justice Ambassador team, including Izzy Layne, Mikaela Mansilla, Maya Mendoza, and Gabi Arguello.

The opening night at the UCSC Hay Barn, included a career panel with four UCSC alumni who are now in the workforce and shared their experiences and career paths with participants.

Panelists included Mehul Kamran, former Sustainability Office student staff, is a UCSC alum from the class of 2021, with a degree in Environmental Studies and Economics; and Michelle Hernández Romero a UCSC alumni from Uruapana, Michoacan, Mexico, College Academic Manager for John R Lewis College and was formerly the Community Outreach Coordinator for the (H)ACER Program. Michelle is also the co-lead of the Calabasas Community Garden in Watsonville, CA, a garden led by farmworker families and in partnership with UCSC (C9/JRLC).

Additional panelists included Stephen Edgar, UCSC graduate in Computer Sciences who was once a student employee at the UCSC Office of Emergency Services, and now, is the Strategic Resilience and Preparedness Manager for Risk and Safety Services; and Jemzi Ortiz, a proud Cheyenne/Mexican/white woman and first-generation UC Santa Cruz graduate with a B.S. in Human Biology (2019) and now Program Coordinator for the American Indian Resource Center at UCSC. As an undergraduate student, Jemzi participated in many campus organizations including Grupo Folklorico Los Mejicas, The Cove, CARE,Dolores Huerta Research Center for the Americas Human Rights Investigations Lab, and Hermanas Unidas Inc. She was an intern at the American Indian Resource Center and, after graduation, was hired as staff. 

Participants had a chance to learn about the many opportunities they took advantage of during their school years and what followed after graduation on their career paths. Learning first hand about their experiences and the panelists' diverse skills was a great learning experience for many students. "The evening was so perfectly wonderful. I absolutely loved the panelists and I don't think it could have been better. I really honored the experience of that night and I really appreciate the opportunity" said one participant. "...All their personalities were very bright, lighthearted, but full of really powerful insight! I was really engaged…" said another participant.

On Saturday, student participants headed up to the mountains of Boulder Creek to YMCA Camp Campbell for the rest of the weekend's programming, which included opportunities to enjoy great weather at the camp's swimming pool, and s'mores around a campfire!

Several speakers from the local community highlighted the retreat's theme that "Another World is Possible".  Maria Cadenas, the Executive Director of Santa Cruz Community Ventures, was the keynote speaker to kick-off the event in the mountains.

Students also led their own conference-style workshops throughout the afternoon, and ended with a community panel called "Building Equity" featuring Josh Patstone and Ayo Banjo. Patstone is a UCSC undergraduate student and coordinator of the Prison Project, a policy reform advocating program dedicated to providing cultural and spiritual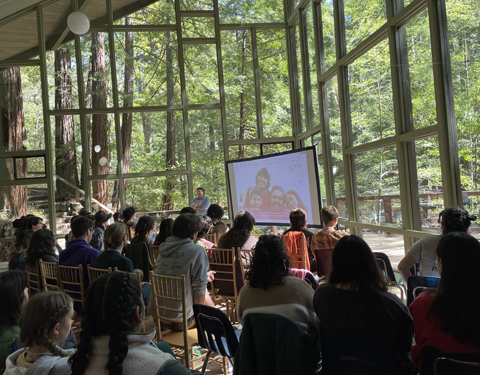 education, support, and hope to incarcerated individuals at Barrios Unidos. Ayo Banjo is another accomplished UCSC alum and passionate community organizer. A first generation Nigerian Black American born in Texas, and raised in California, Banjo's signature leadership strategy uses high-impact collaborative decision-making processes to cultivate community trust around diverse equitable services. 

Sunday's closing programming included some very powerful moments for reflection as well as calls to action. Affiliates of Tierras Milperas openly shared stories of personal struggles and the resilience of a community coming together through the voices of residents of Pajaro, a community near Watsonville that was impacted in Winter 2023 by devastating flood by a levee failure in the river. The attendees also heard from leaders at the Shelterwood Collective who spoke about QTBIPOC Land Restoration and Healing.

"I think that the retreat pulled through the way we hoped it would. That weekend was a relaxing but informative space that helped me grasp and understand the necessity and value of grassroots organizations. By highlighting organizations around Santa Cruz County, it was inspiring to see so many activists that are doing the work for our communities." said Mikaela Mansilla, one of the retreat's student organizers.

Many student participants shared positive feedback following the retreat: "This was an incredible, impactful, and just amazing experience. I took a lot away, met great people, and overall I'm so grateful for the opportunity." "Thank you so much to the planning committee for organizing this! It is going to be a very memorable college memory for me! I am so grateful I got to attend and learn alongside my peers :)." "...I will never be the same for having attended the retreat, and [experiencing] the thought and care so present throughout the entire weekend!"

The Sustainability Office is honored to have hosted this retreat for over a decade, and is hopeful that it will be able to continue to provide this important programming to UCSC students. The event was made possible by a student fee measure that sunset in 2020, and the fee measure has returned to the ballot for Spring 2023. If undergraduate students vote to pass Fee Measure 78 for a fee of $3/quarter, the Sustainability Office will be able to continue providing this retreat 100% free of cost to students, as well as employment for 25+ undergraduate students annually. 25% of the undergraduate student body must vote in order for the fee measure to pass, so this Spring be sure to Get Out The Vote!

To learn more about the Sustainability Office and other events, please subscribe to our newsletter.