This fall, all members of the UCSC community will have the option to refill their personal care and cleaning products on campus.  A new startup called Wonderfil is installing refill stations for shampoo, conditioner, body wash, soap and more in Porter and Stevenson colleges.
Wonderfil has four UCSC students on its founding team including Electrical Engineering undergraduate and Wonderfil's Co-Founder Shiloh Sacks, Computer Science major William Morris and Computer Engineering majors Jake Nations and Lillian Gwendolyn.  The team also includes CEO and Co-Founder Amelia Eichel and San Jose State University Mechanical Engineering student Eric Zhang and Computer Science major David Huang.
Wonderfil's refill stations are built to be as convenient and scalable as water bottle refill stations but for everything that comes in plastic bottles. Wonderfil refill stations calculate the amount of product being dispensed as its dispensing and charges your card automatically, eliminating the need to take the tare weight of your reusable bottles.
Folks are encouraged to clean and reuse the bottles and mason jars they already have. Alternatively, members of the Wonderfil team will be on campus periodically to sell reusable bottles and get feedback from community members on their refill experience.  Wonderfil's priority is to provide products that work for all hair and skin types and make the refill stations as accessible as possible.
Wonderfil refill stations enable brands to distribute liquid and cream products in large bulk containers cutting out single-use plastics from their supply chains.  Distributing in bulk also reduces the environmental impact associated with shipping.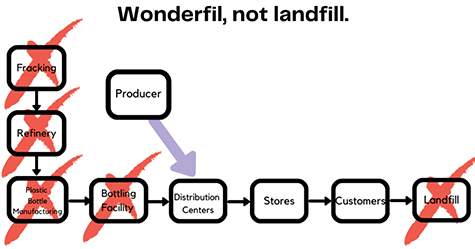 The Wonderfil team believes it is crucial that sustainable options should be affordable and convenient, and the burden of solving problems caused by large corporations should not be put on consumers. By piloting with universities, Wonderfil is seeking to prove that consumers want less waste, are willing to refill their bottles. This behavior will encourage brands to transition to a bulk distribution model, systematically reducing waste and carbon emissions.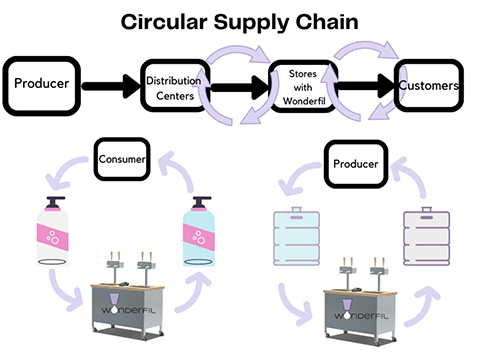 Wonderfil's founders received a grant from the Carbon Fund and a Tech for Social Good grant from CITRIS & The Banao Institute to develop and install the refill stations on campus.  The UCs'ambitious zero-waste goals can only be achieved by phasing out single-use plastics for consumer packaged goods on campus.  Wonderfil is hoping to fill the gap for zero-waste liquid and cream products. 
Many institutions began setting plastic-reduction policies after China stopped accepting plastic waste from the US in 2018 which led the US recycling industry into a crisis. The influx of plastic being thrown in the recycling bin, packed and shipped overseas was no longer a "viable solution" (most of it ended up incinerated or dumped, not recycled).  
Only about 9% of plastic has ever been recycled.  This is because the plastic industry lobbied to put the chasing arrows symbol on the bottom of all plastic packaging without first consulting recycling centers and ensuring they had the infrastructure and technology to actually recycle plastic. This was effectively a greenwashing campaign, misleading the public into throwing millions of tons of plastic into recycling bins without a viable way to recycle it. To date, the US does not have the recycling technology or infrastructure to recycle the plastic waste being produced by the oil and gas industry.
Despite making up 3% of the world's population, the US produces 12% of global plastic waste. The World Economic Forum projects that plastic production will double in the next 20 years. As demand for fossil fuels is projected to decrease for transportation and energy, the fossil fuel industry is investing billions into new plastic production plants in areas like the gulf coast of Texas, Ohio, Pennsylvania, Louisiana, and West Virginia. The communities surrounding these petrochemical plants are primarily Black, immigrant, people of color, and low-income. The area of the US most densely packed with petrochemical plants has been dubbed "Cancer Alley" due to cancer rates almost 50 times higher than the national average. In 2019, retired special ed teacher turned community organizer, Sharon Lavigne, successfully mobilized her community to block a new $1.25bn plastic production plant from being built two miles from her house in Louisiana. The plant would have generated a million pounds of liquid hazardous waste every year. 
Lavigne's activism and kindred movements are Wonderfil's north star. The plastic pollution problem is a public health crisis and an environmental justice issue. Plastic production and disposal disproportionately impacts BIPOC communities and people who contribute to the problem, the least. Thanks to tireless activism, organizing, investigations, and reporting, consumers and institutions are becoming increasingly aware of the issue and looking for ways to ditch plastic. Wonderfil is trying to build a solution that can quickly replace single-use plastics in supply chains and accurately measure plastic and emissions reductions to prevent greenwashing. Wonderfil is looking to partner with researchers and policy makers to ensure that reduced demand for plastic results in reduced plastic production.
You can visit Wonderfil's website and follow them on Instagram to keep track of their progress. Wonderfil is a participant in the CITRIS Foundry Incubation Program and is fundraising and preparing to build their team. If you are interested in working with Wonderfil, please email hello@wonderfil.world.