Kristen Lee, Sustainability Programs Manager at the Sustainability Office is definitely a "mover and shaker". During their 5 years at UCSC, they were an integral part of the Sustainability Office, leading many teams and initiatives that helped UCSC further its Sustainability Mission. Their contribution to UCSC and beyond, will be long lasting. Kristen will be missed. 
Tell us a bit about yourself, your background, and how your path led to where you are today.
I grew up in LA and did a lot of backpacking trips as a kid with my dad, which really inspired my awe of nature. In my senior year of high school, I took AP Environmental Science with Ms. Redman, a fantastic teacher, which totally changed my life. I then knew I wanted to major in Environmental Studies or Science in college, which took me to a small town in Central Pennsylvania to attend college at Dickinson College.
Dickinson has one of the oldest Environmental Studies programs in the country. Little did I know that I'd go on to intern at the newly founded Center for Sustainability Education (CSE) headed by Neil Leary, attend the COP15 UN Climate Summit in Copenhagen, study abroad in a renowned climate change program at University of East Anglia in Norwich, England, and participate in an experiential learning semester that took me to the Louisiana coast, Cancer Alley, the Chesapeake Bay, and West Virginia to study all sorts of environmental degradation like mountaintop removal, land subsidence, agricultural impacts on bodies of water, etc. 
While working at CSE, I had this amazing supervisor, Sarah Brylinsky, who was just a total powerhouse - I remember realizing that sustainability in higher education was a field because of her! As a graduate student at University of Texas at Austin, I served as the first graduate assistant at their Campus Environmental Center, which is the UT equivalent of UCSC's Student Environmental Center. I then went on to work at Yale University and Florida State University before coming to UC Santa Cruz in 2016.
You have worked in sustainability at four different institutions before UCSC. What was your main focus while working at these institutions?
Over my combined 4.5 years between Dickinson College, University of Texas at Austin, Yale University, and Florida State University, I learned about and worked on so many different projects. I have managed many sustainability programs, including 2 move-out programs, Earth Month programming, a film series, Green Office Certification, a tailgate recycling program at an 86,000 fan football stadium as well as a bike recovery, refurbishment, and rental program. I've been really lucky to have gotten so many different programmatic experiences so early on in my career! 
What brought you to the Sustainability Office at UCSC, and what is the most rewarding part of your job? 
When I first saw the UC Santa Cruz Sustainability Programs Manager job posted on the AASHE bulletin, I was so excited! I knew UC Santa Cruz and the UC system had a great reputation in sustainability. I wasn't even job searching but I applied anyway and barely thought I had a chance. My mom happened to be visiting and it was my aunt's birthday who lives in Aptos - my mom then started a rumor to my family and close friends still in California that I had gotten a job back in California, even though I hadn't even applied yet!! I was hoping to return to California to be closer to family - my grandfather, who lived in Santa Barbara, had just been diagnosed with cancer and he was one of my best friends in the world. I was lucky to have gotten to spend more time with him in the final years of his life than I would have if I had been all the way across the country in Florida. 
The most rewarding part of my job is two-fold: 1. seeing the student staff I supervise grow in their roles, as professionals, and as people. I've seen lightbulb moments, skill development, friendships forged, and first jobs accepted! It is also amazing when Sustainability Office student staff go on to be lifelong friends because of their shared experience in the Office. I love getting texts from former students - hearing from them about their journey in graduate school, jobs, etc is so gratifying. 
The other rewarding aspect of my job is in systems transformation - it is amazing to be able to look at a complex campus-wide and perhaps even regional issue, brainstorm ways to make the system better, bring all the necessary folks together, and then get to work on implementing those changes. 
The Student Sustainability Advisors Program has been "elevated" by your efforts. Tell us about that. 
When the SSA program came to live in our office and under my supervision a few years back, I relaxed some of the programmatic requirements to build in more room for collaboration, paired student work, and student creativity. I wanted SSAs to be able to have their curiosity and interests guide their programming, instead of dictating that they had to do one program on different sustainability topics like water, waste, transportation, greenhouse gases, etc. I also recognized that creating programs from scratch can be a really daunting task for a sophomore who has never done anything like that before, so we also created a repository of a number of previously successful programs that students could opt to replicate if they wanted to. We introduced the idea of a paired annual project, which is some tangible sustainability initiative or improvement to the campus - I think students have really gotten a lot of value out of these projects. 
The SSA program has had a campus-wide impact over the past 4 years, including assisting with student move-in through staffing the cardboard corrals, executing the food recovery pilot program, creating waste reduction educational modules, hosting sustainability mixers for RAs, doing best practices analysis reports on anything from campus-wide composting systems to waste sorting platforms, trash-talking at Commencement ceremonies, etc.
The "new" Sustainability & Environmental Justice Ambassadors Team, SEJA, is one of your "babies". What was the idea behind it, the process of making it come to fruition and what do you envision for its future?
It is important to acknowledge the significant amounts of time and labor that has been dedicated before that allows us to have the SEJA team. Inclusive sustainability work was going on at UC Santa Cruz before I got to campus and all the work I've done with this team is indebted to the amazing work of Dr. Flora Lu and her research team, Dr. Rebecca Hernandez, Adriana Renteria, PoCSC students, and Elida Erickson, our Director. 
Our office recruited for a Sustainability & Diversity Educational Programs Manager in 2019, but did not hire anyone. It was our goal to have this person supervise students in work at the intersection of sustainability and diversity. However, as time passed and the position remained unfilled due to COVID-related budgetary restrictions, we realized that we needed to start supporting this work more in our office even without the staff person we had hoped to have on-board. Students at UCSC care deeply about social justice so it felt only natural that we help them make that small jump to connect that passion to environmental justice. 

The SEJA team's goals are: 
To increase the visibility and student understanding of environmental justice on campus through peer-to-peer education and outreach via social media (@ucscenvjustice);

To design accessible educational modules on environmental justice; 

To collaborate with and elevate the visibility of organizations already doing this important work. 
The SEJA team manages our excellent IG account (@ucscenvjustice), creates educational content, and elevates the important work already being done in this space, from local Santa Cruz County youth activists like Leaders4Earth and Youth for Climate Justice, to PoCSC and the UCSC Environmental Justice Journal to California environmental justice non-profits, which we feature on our page. 
The future of the SEJA team is bright. We not only have amazing and accomplished student staff on the team, but also have presented our Environmental Justice 101 presentation to approximately 150 undergraduate students since January! These students will continue to present at conferences, gain followers on social media, and elevate the important voices of those doing the work on the front lines. 
You played a pivotal role in strengthening the UC systemwide zero waste policy, including the development of a waste-reduction policy and phase-out of single-use plastics. Can you describe what this journey was like?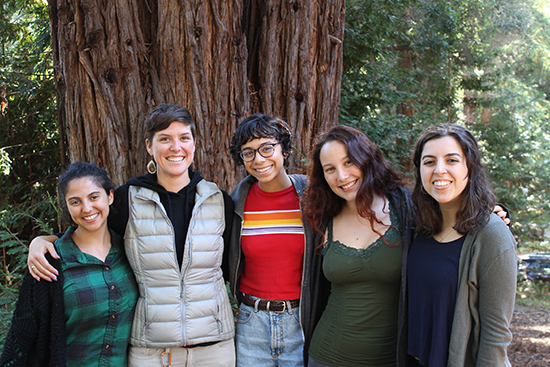 The journey has included: LOTS of hours researching other goal structures from cities and countries, many hours of zoom calls, working group meetings with colleagues from across the UC system, consulting with student groups and seemingly endless rounds of edits. 
Huge thanks to the leadership of Matt O'Carroll (UCSB), Anne Krieghoff (UCI), Ryan Bell (UCOP), Erin Fabris (UCLA) and many others. structures from cities and countries, many hours of zoom calls, working group meetings with colleagues from across the UC system, consulting with student groups and seemingly endless rounds of edits. 
I understand you did an outstanding job with piloting a food recovery program on our campus in 2017-18. Can you summarize the program for us and share the biggest successes and challenges?
The food recovery pilot we ran in 2017-18 was so much fun. With just 10 students, 2 borrowed golf carts, and 2 insulated cold bags, we collected edible food that had reached the sell-by date from campus cafes and delivered it to the SUA Food Pantry - 5 nights per week! This food would have otherwise been composted or sent to a landfill. Over 24 weeks, we ended up diverting 3,476 packages of food which translated to 1,918.2 pounds of food - needless to say, it was a huge success!
This pilot was a great way to demonstrate that food recovery was possible at UC Santa Cruz, give students a hands-on experience, as well as donate luxury food items to the pantry - I think an awesome unintended consequence of this program is that the food we were delivering, like $14 sushi packages, helped shift the narrative around what sort of food items students should expect when visiting a pantry. 
The challenges ended up being fun, once we had our system in place! We had to set up a simple but robust logistical system that accounted for food safety, student scheduling, building access, etc. that held up to rigor. We went through many renditions of the project plan, meetings with EH&S, Dining, and Catering, and layers of approval before we started the work. One time, the electric golf cart ran out of juice one evening going up a steep hill, so one of our students was stranded and had to call another SSA and her boyfriend to come help push it up the hill and out of the road! With this type of program, the devil is in the details and record-keeping is super important. Our team relied heavily upon spreadsheets and templates with the average weights of sushi, burritos, salads, fruit cups, etc all plugged in, which made it really easy for us to then calculate our total impact throughout the year. 
This pilot wasn't meant to live long-term in our office so we were very excited when the Cowell Food Hub staff wanted to transition the program under their purview. We were able to lay a really strong groundwork for the Cowell Food Hub staff who (in non-COVID times) continue the food recovery work to this day!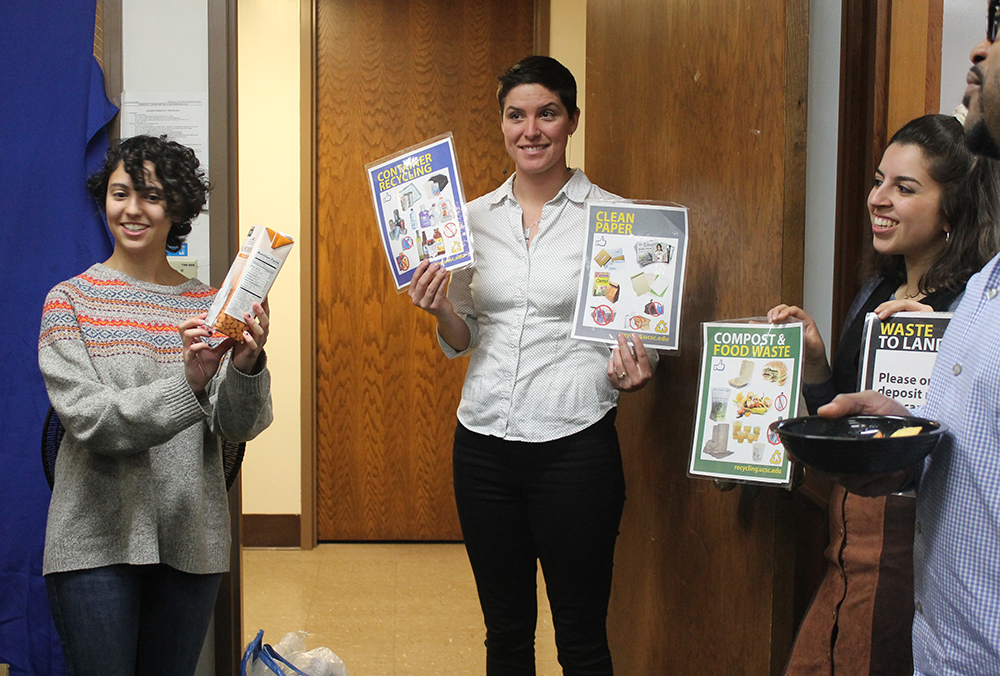 As one of the instructors of the Sustainability Certificate Program, you co-teach the class "Beyond the Blue Bin" along with Leslie O' Malley, Santa Cruz City Waste Reduction Program Manager. Can you tell us more about this partnership, and about the importance of having community partners to reach sustainability goals?
Leslie O'Malley is a fantastic community partner and overall stellar human - we just get along really well! We've been working together for a number of years now and I respect her so much - she's such a delight to work with! In non-COVID times, I take a group of students once a year to Dimeo Lane to do a landfill and recycling tour with her; we've also worked together to reduce recycling contamination from on-campus buildings. 
When the idea for Beyond the Blue Bin came up, asking Leslie to co-present was a no-brainer. She's a great teacher with so much knowledge and great perspectives and participants love her! We co-plan the whole agenda and brainstorm fun interactive pieces, which has been especially fun & challenging during COVID. 
Partnerships are everything in sustainability work - we cannot do this work and succeed/meet our goals alone. 
In these past few years at the Sustainability Office, what are some highlights for you, and why?
The Sustainability & Social Justice Inter-Organizational Retreat is always a highlight! I cry every year just because the event is so wholesome and amazing and I 
wish I had had a similar event to attend when I was in college!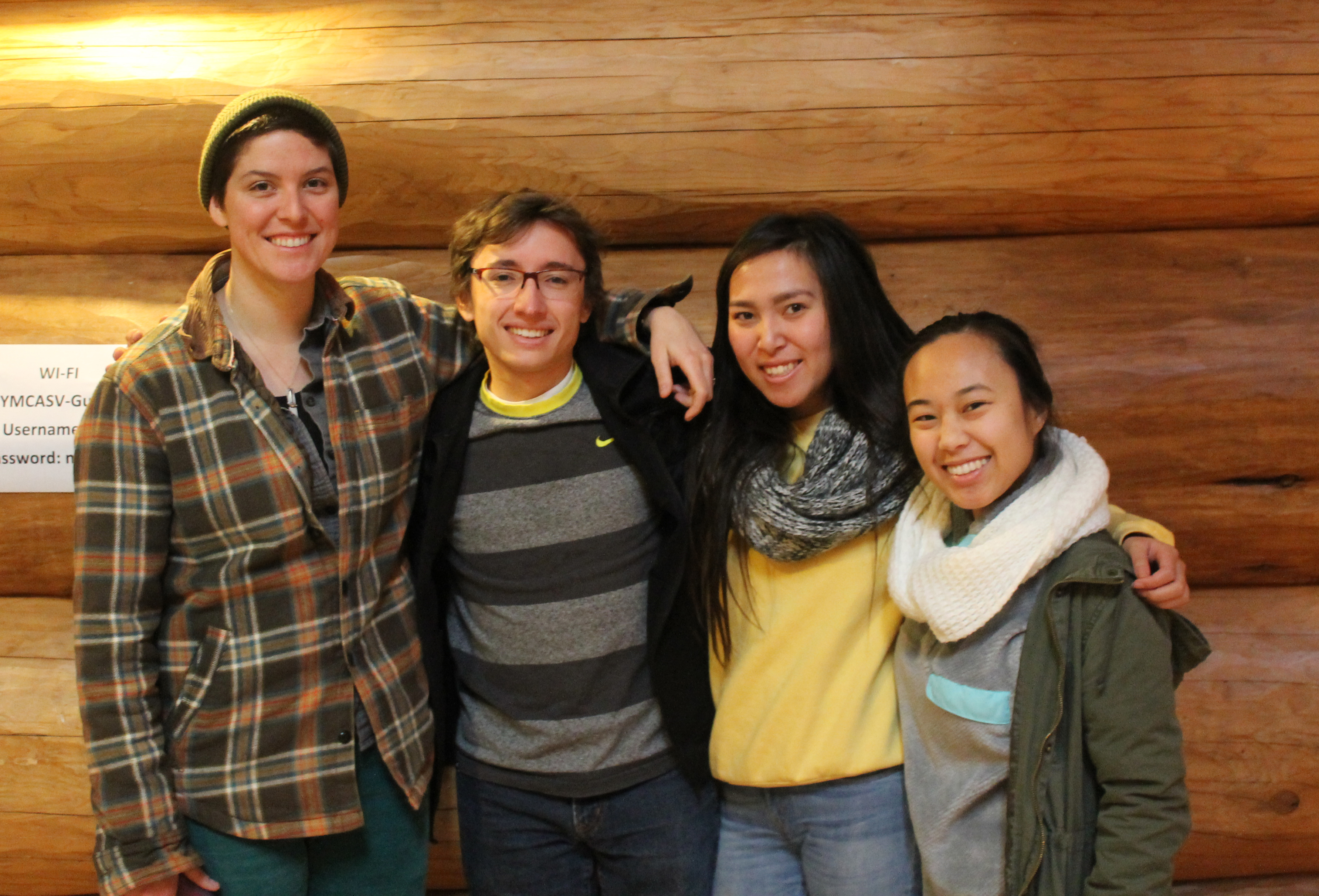 It may sound weird, but committee work is also very fun and gratifying. You get to meet and work with new people, learn about them, explore
I also love attending a successful and well-attended event that a Sustainability Office student puts on. Seeing the hours of work and planning behind an event, and then having it come to fruition is also always awesome.  issues together, and take the best ideas that arise from that collective brain trust. Fun check-ins are a must because it is no secret that I hate boring meetings. 
I've also had the pleasure of trash-talking at Commencement ceremonies - I often get to see graduating Sustainability Office students walk which is such a treat!
 And lastly, on a more personal note, what do you do for fun?
In my free time, I like to hike in the woods, learn about plants and trees and forage for mushrooms if the season is right!! Honestly, I love anything that involves being outside and being in the sun. I'm also a big nerd - during COVID have become pretty fanatical about meal planning & prep as well as budgeting!
After five years of great accomplishments at UCSC, Kristen Less is transitioning to a new job in Oregon this month. We wish them well in this new endeavor. They will be greatly missed!