Cindy Delgado, Assistant Director of Worker's Compensation for Risk Services, is being recognized this month for the valuable work she does to further sustainability on this campus and beyond. She is involved in the Healthy Beverage Workgroup, participated in the Sustainable Certificate Program, and was the staff person with the highest score on last year's Cool Campus Challenge. According to Cindy's colleague Brenda Livingstone, "Cindy's enthusiasm was infectious for getting our department excited about how we can make small changes to our everyday work lives that together and with time will add up to make an impact for the good of the environment." Learn more about her journey and her work in our interview with Cindy.
How did you become interested in waste reduction and sustainability?
I became interested in waste reduction and sustainability when I came to UCSC in 2014 and I learned about Green Office Certification.  I contacted the Sustainability Office's Green Office Certification Program and went through the assessment process and we implemented a sustainability plan. Our office was certified at Tier 3 - Sapling level. In 2018 we went through the recertification process and we were certified at the next level, Tier 4 - Tree Level. 
What does sustainability mean to you?
To me sustainability is the process of creating and maintaining conditions where society and nature can exist in productive harmony to support the present and future generations.
You received the highest staff score on last year's Cool Campus Challenge and were a great influence on colleagues. What motivated you to be so dedicated?
The Cool Campus Challenge provided an ideal opportunity to engage colleagues in sustainability and demonstrate that every small step makes a difference and contributes to the goal of achieving carbon neutrality. The Cool Campus Challenge was a fun approach to showcase the various ways that sustainable practices can be achieved. 
What did you learn by participating in the Cool Campus Challenge that improved your sustainable practices?
I learned about the zero waste process and the conservation of resources in responsible product packaging.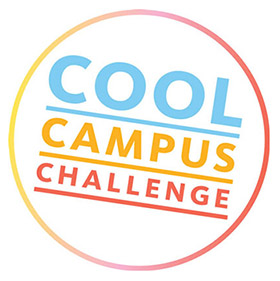 The tips and tools provided for zero waste alternatives improved my sustainable practices.
Being a graduate of the Sustainability Certificate Program, what would you tell a staff member or graduate student who is thinking about participating?
I would highly recommend the Sustainability Certificate Program. The program provides a holistic approach to sustainability and provides tools and resources to develop a sustainable strategy.
We understand you are involved in the Healthy Beverage Initiative Workgroup. Can you tell us more about it? How did it begin?
My office is leading the Healthy Beverage Initiative Workgroup for the campus, and collaborating with various campus stakeholders. The systemwide UC Healthy Beverage Initiative is part of the Healthy Campus Network (HCN) that was spearheaded by UC President Napolitano in 2016. The Healthy Beverage Initiative was initiated by the Office of the President in October of last year. It aims to improve access to tap water as a healthy alternative to sugar-sweetened beverages (SSBs) and provide the opportunity for UC campuses to create healthy beverage zones and make strides towards reducing sugar sweetened beverages.

Unhealthy diets, such as ones high in added sugars, are a major contributor to the development of preventable chronic illnesses, including cardiovascular disease and type 2 diabetes. Sugar-sweetened beverages are the main source of added sugars in the United States.
 
Our goal for UC Santa Cruz's Healthy Beverage Initiative is to improve tap water infrastructure and opportunities for healthier beverage zones. We are currently evaluating tap water access for the implementation of hydration stations.  
UCOP is supportive of an initiative from this group. Can you tell us what that is and how it came about?
My office manages the faculty and staff wellness program and the Healthy Campus Network for the campus. We are currently meeting with campus stakeholders to evaluate the implementation of the new systemwide UC Healthy Vending Policy, which is part of the Healthy Campus Network. The UC Healthy Vending Policy sets minimum standards for all UC locations to improve offerings in vending machines.
  
Vending machines serve as a convenient source for food and beverage for college communities; however, vending offerings often consist of calorie-dense products that are high in sodium, refined sugar, and saturated fats that contribute to health issues. The UC Healthy Vending Policy ensures that students, faculty, and staff have easy, convenient access to healthier choices in vending machines and encourages a healthy lifestyle.
Anything else you would like to share or add? 
I would like to add that I would recommend participating in campus sustainability efforts if you have the time. The Sustainability Office has many ways to engage in sustainability initiatives and they have great funding opportunities to assist in creating environmentally sound practices on campus.