Green Labs Incentive Program
Get Money For New Efficient Freezers!
History
In 2016-19, UCSC completed a freezer retrofit and incentive program. We had received funding from the Strategic Energy Program and the Carbon Fund. We replaced or incentivized 30 freezers and fridges!
New Opportunity
In 2020, the Green Labs Team received a Carbon Fund grant of $20,000 to subsidize the purchase of fridges and ULT freezers. 
If you find a new freezer/fridge that qualifies, the incentive will be transferred to your department. Green Labs does not participate in the purchase or installation of the product. Contact EH&S to dispose of your old freezer.
$2,000+ is available per ULT (-80) freezers
$200 is available for freezers/fridges (-4/-20)
How to qualify for UCSC's incentive
The freezer must be both:
1) Energy Star certified (Per UCOP's Sustainable Procurement Policy ALL freezers must be Energy Star!)
2) Have an energy consumption of .40 (kWh/day/cu-ft) or less (almost all Energy Star freezers are)
Your lab must be either:
1) Green Lab Certified
2) Commit to becoming Green Lab Certified within one year of receiving the incentive
Get your incentive
Fill out our brief Freezer Incentive Program Application Form
A member of the Green Labs Team will reply to you shortly. 
__________________________________________________________________________________
How to qualify for PG&E incentive

Review PG&E's Business Rebates for Refrigeration to get the newest Rebate Codes and incentive amounts
Review UCOP's Energy Efficiency Rebate Presentation to learn how to receive $1,200 incentive and see Qualifying Products

Rebates as of December 2020: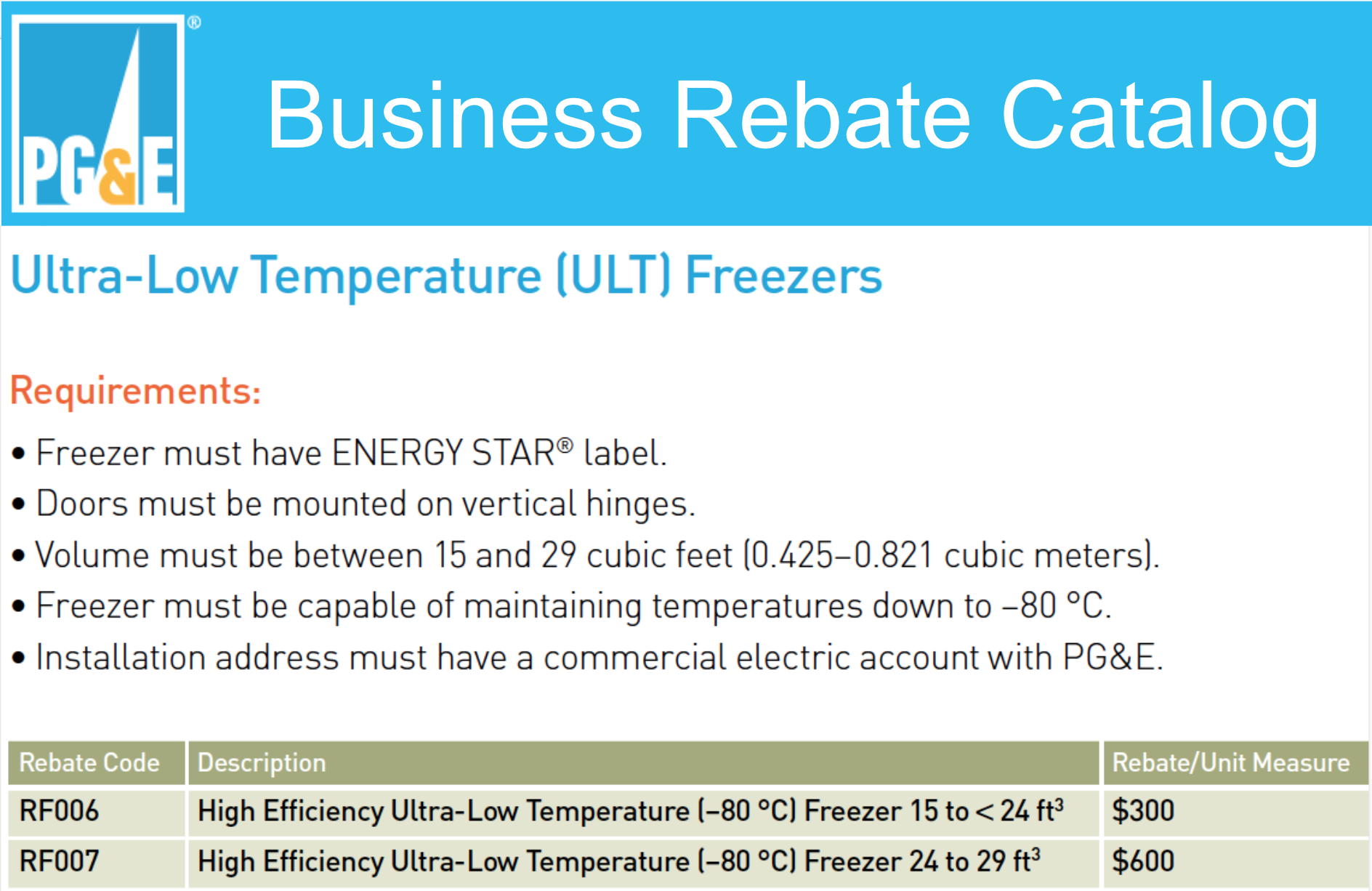 The submission of the PGE rebate applications has to be within 60 days of purchase/installation (whichever is later). Contact us if you're purchasing five or more at once for a higher rebate.
Start here and click on the "Visit the Online Application" button
Service Agreement ID (SAID):main campus - 1293423005. Get off campus SAID
Business Type: "Commercial"
Tax Status: Exempt
Tax ID: 94-1539563 
DO NOT check the box for "PGE on-bill financing program" or "Proposition 39"

Make checks payable to "UC Santa Cruz" 
Address: Attn: Ed Moran
University of California Santa Cruz
1156 High Street,
Santa Cruz, CA 95064
Email Ed Moran and let him know the account (FOPAL) you'd like the money deposited in. 
____________________________________________________________________________________________
Resources
Check out our Green Procurement page to view our freezer recommendations, freezer performance reports, current manufacturer incentives, and best freezer practices.