Kimberly-Clark Nitrile Glove Recycling Program
Recyclable Kimberly-Clark Gloves
Making Your CruzBuy Purchase Easy
Quick Resources
Glove Bin Label                    Chemical Resistance Guide                       Glove Flyer
---
About
Kimberly-Clark offers the first large-scale effort to divert previously hard-to-recycle and commonly used items like laboratory nitrile gloves. In a UCSC laboratory waste assessment, it was found that nitrile gloves make up a majority of laboratory waste destined for the landfill.
To reduce such a large waste stream, UCSC Green Labs and EH&S have collaborated with the Kimberly-Clark Nitrile Glove Recycling Program ("RightCycle") to promote laboratory sustainability and expand a national effort that has so far diverted 70,000 pounds of waste from landfills.
UCSC Green Labs officially began its Kimberly-Clark Nitrile Glove Recycling Program in late February 2014. We hope laboratories will participate in recycling their current stock of Kimberly-Clark Nitrile gloves or begin purchasing the more sustainable Kimberly-Clark Nitrile brand as the program continues.

This UCSC program was funded by the Sustainability Working Group Funds Award and EH&S.

More...

---
Recyclable Kimberly-Clark Gloves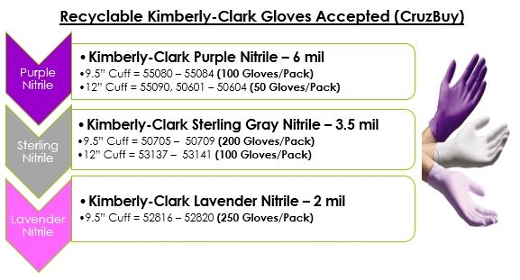 * Kimberly-Clark Blue Nitrile Goves are accepted as well *
---
Recycling Process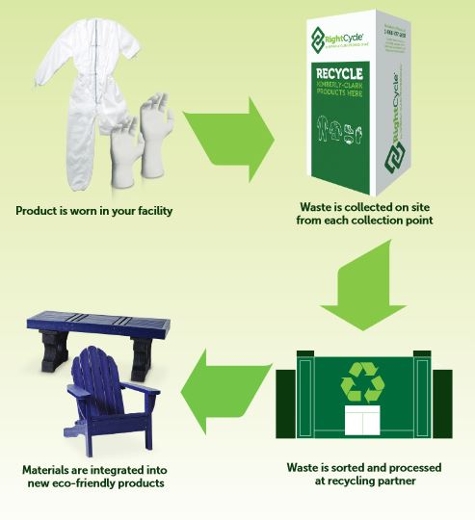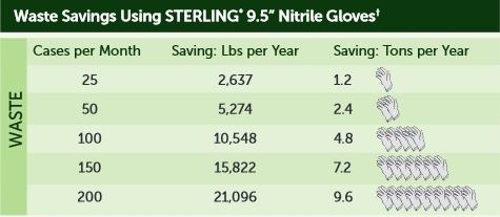 ---
How to Participate
1. Start collecting Kimberly-Clark (KC) nitrile gloves in a container in your lab (plastic liner allowed).
2. Drop off the gloves at the KC Nitrile glove recycling box in your building:
• Physical Sciences Building - room 101
• Sinsheimer - room 137
• Biomed - room 208
• Jack Baskin Engineering Building - room 202
• Anthropology - SSI 439
• Earth & Marine Sciences – 2nd floor C block by e-waste collection
• Long Marine Lab – in the mail room
• 2300 Delaware – room C145

---
Making Your CruzBuy Purchase Easy
1. Go to your favorites page in CruzBuy.
2. Select new folder (choose either personal or shared) and name it Kimberly-Clark Gloves.
3. Then search for your preferred Kimberly-Clark nitrile gloves by using the product numbers under Recyclable Kimberly-Clark Gloves.
4. Once preferred glove type is selected, click on the "Go" drop down menu.
5. Under "Go" select "Add to Favorites."
6. A pop-up will appear. Utilize the steps to (optionally) change the product name and choose the "Kimberly-Clark Gloves" folder. Press submit.
7. Congratulations! Your gloves have been saved for easy access in your Favorites page.
For assistance setting up your favorites in CruzBuy, contact hazwaste@ucsc.edu



---
Questions & Answers
Can only Kimberly-Clark gloves be recycled?
Yes. The gloves are being up-cycled (reused) and sold in the raw materials market for products.   Raw materials must come from a known formulation of gloves.  Each glove manufacturer has their own proprietary glove formulation, so we cannot accept other brands within the recycling program.
Can you recycle other materials like latex and blended gloves?
No.  Right now, only nitrile is accepted.
Can chemically contaminated gloves be recycled?
The program will only recycle the gloves that are destined for the landfill. If you are disposing your gloves any other way (biohazard, hazwaste, etc.), they need to continue to be disposed that way.  The program accepts autoclaved gloves.
Can plastic bag liner be placed in the glove recycling box?
Yes. Non-latex bag liners can be recycled with all Kimberly-Clark nitrile gloves.
Are Kimberly-Clark gloves more expensive than other brands?
Usually not. While Kimberly-Clark glove packs might appear more expensive, more gloves are incorporated into each pack. This makes the packaging more environmentally friendly and the overall price equal to most other brands. Also take note that 12 inch cuffs vary in packaging/price from 9.5 inch cuffs.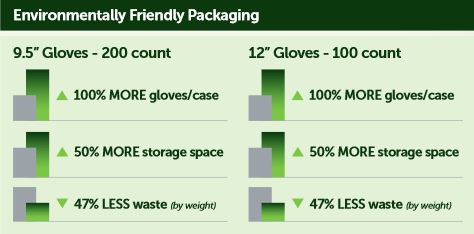 Where can I get more information about chemical compatibility and Kimberly-Clark gloves?
The Chemical Resistance Guide offers the chemical compatibility for Kimberly-Clark Purple and Sterling Nitrile gloves. The Lavender Nitrile glove does not have any chemical claims but will give better protection than latex gloves.
Who do I contact when the cardboard recycling boxes are full? 
---